New

Thinking

Growth

Opportunity

Starts Now
We provide a fresh perspective on growth for brands, banks, fintechs and credit unions with the technology and support to make it happen.
Core to Your Growth
Modern Core Banking
Modern, flexible, fast.
Whether it's creating a new digital bank or modernizing a legacy infrastructure, Nymbus Core is your fast track to reaching new growth and new opportunities.
Modern cloud-native platform with an intuitive interface
Enable multiple account structures for a single entity
Built to support traditional and digital-only retail and business banking
Deliver embedded banking products and services
Stand up Core in parallel to your existing core and tech stack
Fully compliant – BSA, AML, and KYC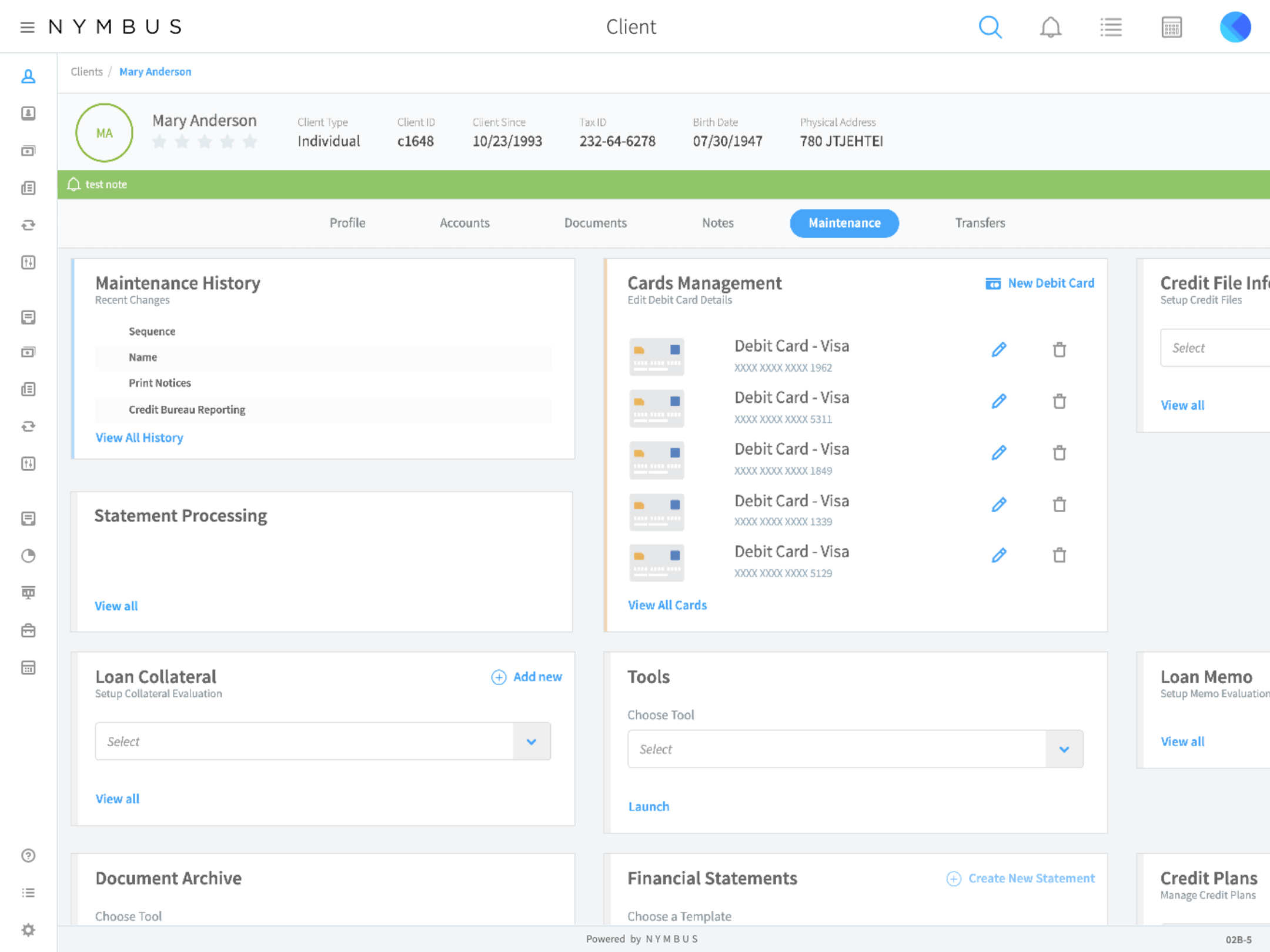 A Complete Set of Products, Solutions and Services Engineered for Growth
Turn-key Solution
Launch a Digital Bank
Niche is the new local for financial services – it's how you connect to the communities you serve and create growth opportunities. Nymbus goes beyond "standing up" a bank with the people, process and technology to get to market quickly – all at a lower customer acquisition cost than traditional models.
People
Call center
BPO
Marketing
Technology
Multi-cloud
API & Microservices
Low-code platform
Modernize Your Tech Stack
Deliver Next Level Digital
Digital banking is more than an extension of your branch – digital is the default. Modernize your existing banking channels with best-in-class experiences built on our proven platform.
Onboarding

Deposits

Lending

Small Business Banking
Customer Stories
PeoplesBank Leverages Nymbus to Launch Digital-Only ZYNLO Bank
In less than one year, PeoplesBank achieved its initial objective with ZYNLO, which was to gain deposits outside its existing footprint. Account growth has increased by 915% since its launch, and its more than $3.6 billion in assets have surpassed the bank's goal by 761%.
Challenge

A competitive force in Massachusetts' banking landscape with assets exceeding $3.6 billion, ZYNLO is PeoplesBank's latest growth strategy to expand its digital reach and engage loyal new customers.

Solution

Designed to simplify the banking experience with an array of products and tools that empower Millennials to reach financial freedom, ZYNLO was built and launched in under 90 days without a core conversion or hiring new resources. Nymbus provides all of the technical and operational resources required to run and market the new bank, along with 24/7/365 support. Key features include Zyng, a benefit that rounds up debit card purchases to the nearest dollar and deposits the difference into the customer's savings account, and Early PayDay.

Products
"Only Nymbus provided us a comprehensive strategy to quickly introduce a new digital-only effort. Backed by and running in parallel to our established institution with 135 years of experience in creating satisfied customers, ZYNLO delivers the ideal combination of digital banking convenience and security that today's consumers depend on."
Brian Canina, Chief Financial Officer, PeoplesBank
PeoplesBank Chooses Nymbus for Core Banking Platform Upgrade
Nymbus' modern core engine will help provide innovative and cutting-edge digital banking services faster and at a lower cost for customers well into the future.
Challenge

Headquartered in Holyoke, Massachusetts with assets exceeding $3.6 billion, PeoplesBank required a fintech partner to best serve the institution's customers and support continued growth.

Solution

PeoplesBank will convert its core banking system over to Nymbus' single, state-of-the-art, API-first solution that brings new digital products and services to market faster. In choosing Nymbus Core, PeoplesBank gains a proven foundation for meaningful, long-term innovation while simplifying back-end processes to improve efficiencies and drive revenue growth.

Products
"Based on our experience, Nymbus is the undisputed fintech partner for top to bottom business transformation."
Thomas Senecal, President & CEO, PeoplesBank
Locality Bank Partners With Nymbus to Create & Grow Digital-First De Novo That Empowers Community Businesses
Nymbus Labs is the catalyst for their go-to-market strategy, combining intentional branding and comprehensive data with the Labs BUILD model. This partnership enables Locality to offer robust solutions founded on speed, flexibility and meaningful growth.
Challenge

Traditional banks are unprepared to meet the growing needs of small businesses, from capital access to tax planning to invoicing to cash flow visibility.

Solution

Locality Bank partnered with Nymbus to reduce the time and cost required to get to market, using cutting-edge technology, on-demand banking services and dedicated support.

Products
"Nymbus provides an ideal solution with the go-to-market timeline that has met our needs exactly. In partnership, we are positioned to reduce key costs in getting our bank started by leveraging their BPO and call center resources to amplify what looks to be a bright future for Locality Bank."
Keith Costello, CEO, Locality Bank
TransPecos Banks Successfully Convertsto Nymbus Core
A partnership for building next generation digital experiences now, while continuing to identify new opportunities for next-level growth.
Challenge

Committed to providing the highest level of care and leadership in the communities it serves, TransPecos sought to modernize its core banking platform in order to best serve its customers and grow the bank.

Solution

Now live with Nymbus, all required banking functions are unified into one state-of-the-art, API-first solution that brings new products and services to market faster—providing an unparalleled experience for customers while simplifying back-end processes to improve efficiencies and drive revenue growth.

The conversion to Nymbus took place seamlessly, and TransPecos customers are already experiencing digitally-enhanced services for simplified deposits, bill pay, and account viewing. Together with Nymbus, TransPecos can now move faster to confidently support its customers and local businesses with the best banking experience possible.

Products
"Once we determined that a core overhaul was needed in order to best serve our customers, we made certain to choose a partner that would move us beyond playing catchup and set the foundation for meaningful, long-term innovation and growth."
Michael Kozub, Chief Executive Officer, TransPecos Banks, SSB
Iroquois Federal Partners with Nymbus to Launchand Grow Digital-Only Brand, Hitched
New niche offering serves modern committed couples with money management tools built for best-in-class, personalized digital banking experiences.
Challenge

An FDIC insured institution headquartered in Watseka, Illinois—Iroquois Federal is known and trusted for serving its local community for more than 135 years with assets now totaling $0.75 billion.

Looking to extend their digital product portfolio for accelerating new growth channels, they recognized the valuable opportunity to take an even more tailored approach to banking that caters directly to an underserved audience in need of financial innovation.

Solution

Hitched is a fully functional digital brand prebuilt by Nymbus with solutions tailored for newlyweds and their unique needs. In partnership with Nymbus' world-class development, marketing and user-experience teams—Hitched is integrated with everything needed for Iroquois Federal to immediately open up their addressable market and serve a new niche segment of consumers.

Products
"Only Nymbus could provide us with a prebuilt business model that literally provides everything needed to get Hitched to market quickly and scale significantly once launched."
Walter Hasselbring III, President and CEO, Iroquois Federal
Centier Bank Partners with Nymbus to Launch & Grow Award-Winning, App-Based Savings Account
Billinero gives the bank the opportunity to show out-of-state clients what makes banking with Centier a special experience, while also helping nurture financial literacy and encourage savings in a fun way.
Challenge

As the largest private, family-owned bank in Indiana with over $5.9 billion in assets, Centier was seeking to grow its digital service offerings for capturing new market share—without disrupting the bank's current infrastructure or customers.

With more than half of Americans having less than $1,000 in savings, Centier recognized a need to encourage better financial habits. With the business goal of growing deposits and the community goal of incentivizing sustainable savings, Billinero was developed and launched in August 2019.

Solution

A digital-only savings account with a game-like approach, Centier partnered with Nymbus to outsource the app's customized development and full operations. Since launch, the total amount of Billinero deposits has grown over 400%, and the team has disbursed over $75,000 to its winners.

Products
"Only Nymbus delivers the open architecture and outsourced support that has allowed us to go into new markets more quickly."
Chris Campbell, Centier Senior Partner
By outsourcing with Nymbus Launch, Centier launched their app-based savings account with an added incentive that has proudly helped change lives. "We've presented checks to a healthcare worker, a frontline healthcare worker, a U.S. Marine Veteran, a newlywed couple who never got to take a honeymoon, and small business owners, to name a few."
Credit Union Transformation Requires the Right Fintech Partner
Inspire Federal Credit Union set out to implement a new technology foundation and long-term partner that could efficiently scale its business with today's growing member demands.
Challenge

With a focused and aggressive approach to relationship-based banking, Inspire recognized the need to compete against the larger regional credit unions and banks who were increasingly innovating with more modern, digital financial services. To lay the foundation for its next chapter of growth and expansion, Inspire needed to act fast with a forward-thinking technology partner who understood digital banking and consumer needs.

Solution

After looking at many of the market's newer fintech players, Nymbus was chosen for their innovative solution and approach to Inspire's problems. Unlike other avenues to a new core banking platform, Nymbus is live and proven as an end-to-end replacement of legacy banking systems. By unifying all of their required banking functions, Inspire can achieve efficiencies that significantly impact the credit union's bottom line.

Products