New

Thinking

Growth

Opportunity

Starts Now
We provide a fresh perspective on growth for brands, banks, fintechs and credit unions with the technology and support to make it happen.
Core to Your Growth
Modern Core Banking
Modern, flexible, fast.
Whether it's creating a new digital bank or modernizing a legacy infrastructure, Nymbus Core is your fast track to reaching new growth and new opportunities.
Modern cloud-native platform with an intuitive interface
Enable multiple account structures for a single entity
Built to support traditional and digital-only retail and business banking
Deliver embedded banking products and services
Stand up Core in parallel to your existing core and tech stack
Fully compliant – BSA, AML, and KYC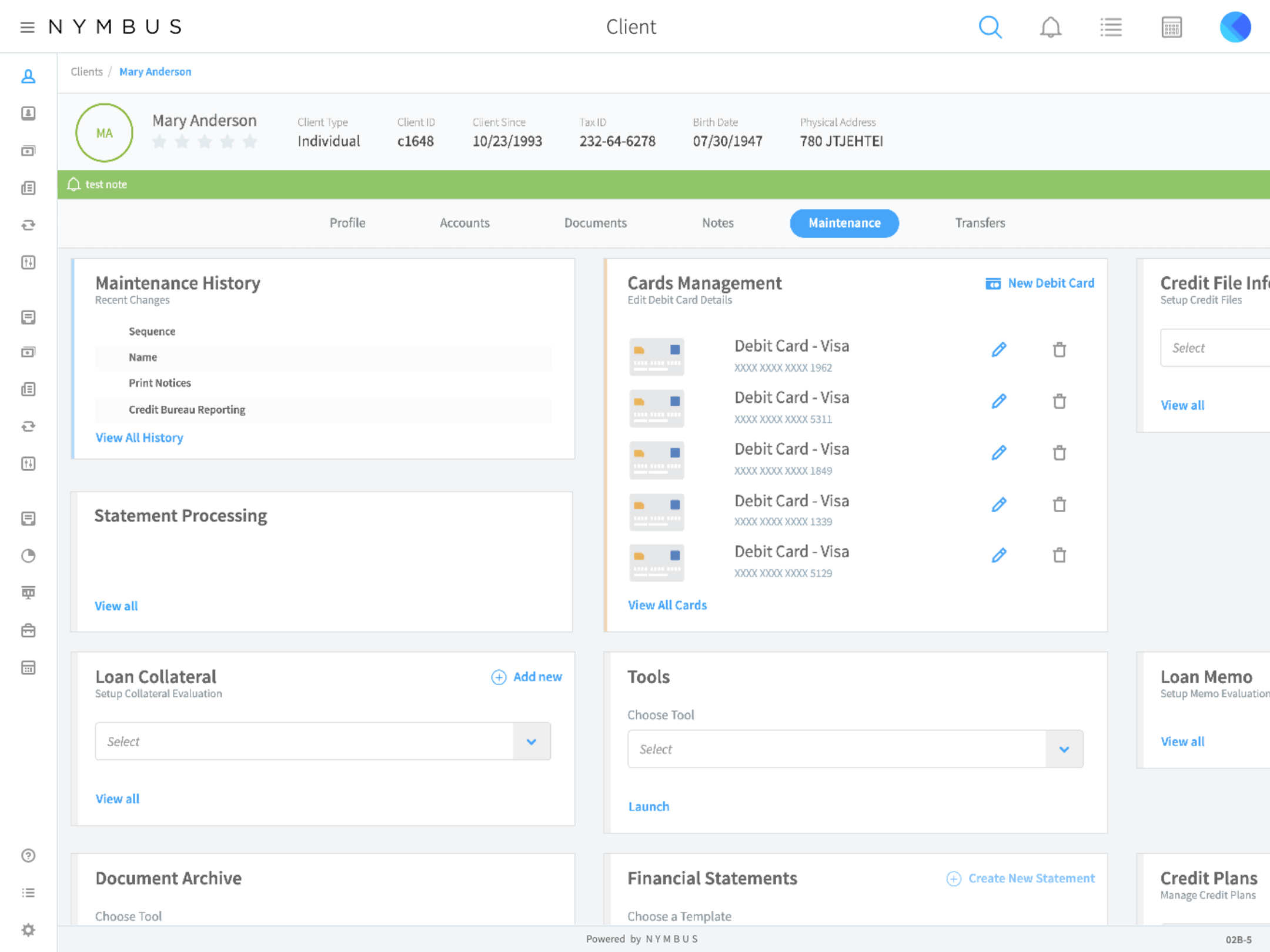 A Complete Set of Products, Solutions and Services Engineered for Growth
Turn-key Solution
Launch a Digital Bank
Niche is the new local for financial services – it's how you connect to the communities you serve and create growth opportunities. Nymbus goes beyond "standing up" a bank with the people, process and technology to get to market quickly – all at a lower customer acquisition cost than traditional models.
People
Call center
BPO
Marketing
Technology
Multi-cloud
API & Microservices
Low-code platform
Modernize Your Tech Stack
Deliver Next Level Digital
Digital banking is more than an extension of your branch – digital is the default. Modernize your existing banking channels with best-in-class experiences built on our proven platform.
Onboarding

Deposits

Lending

Small Business Banking
Client Stories
Digital-First Zynlo Grows Deposits for PeoplesBank
Zynlo surpasses its initial goal, acquiring more than $42M in assets in 16 months.
Challenge

PeoplesBank approached Nymbus to collaborate on a growth strategy to expand its digital reach and attract new Millenial customers.

Solution

Designed to simplify the banking experience with an array of products and tools that empower Millennials to reach financial freedom, ZYNLO was built and launched in less than 90 days without a core conversion or hiring new resources. Nymbus provides the people, process, and technology to run and market the new bank. Key features include Zyng, a benefit that rounds up debit card purchases to the nearest dollar and deposits the difference into the customer's savings account.

Products
"Backed by and running in parallel to our established institution with 135 years of experience in creating satisfied customers, ZYNLO delivers the ideal combination of digital banking convenience and security that today's consumers depend on."
Brian Canina, Chief Financial Officer, PeoplesBank
PeoplesBank Modernizes Digital Banking Experience with Core Upgrade
After leveraging the parallel core for niche bank Zynlo, PeoplesBank converts their entire bank to Nymbus Core to provide innovative and cutting-edge digital banking services faster and at a lower cost.
Challenge

Headquartered in Holyoke, Mass. with assets exceeding $3.6 billion, PeoplesBank required a fintech partner to best serve the institution's customers and support continued growth.

Solution

PeoplesBank converted its core banking system to Nymbus' single, state-of-the-art, API-first solution that brings new digital products and services to market faster. In choosing Nymbus Core, PeoplesBank gained a proven foundation for meaningful, long-term innovation while simplifying back-end processes to improve efficiencies and drive revenue growth.

Products
"Based on our experience, Nymbus is the undisputed fintech partner for top-to-bottom business transformation."
Thomas Senecal, President & CEO, PeoplesBank
Locality Launches and Grows De Novo Bank to $120M in Assets in Year One
Partnership enables Locality to offer robust solutions founded on speed, flexibility, and meaningful growth.
Challenge

Traditional banks were unprepared to meet the funding needs of growing small businesses in South Florida – from capital access to tax planning to invoicing to cash flow visibility.

Solution

Locality Bank partnered with Nymbus to build and launch a niche brand with a deep understanding of the unique needs of small business owners in South Florida, powered by cutting-edge technology, on-demand business banking services, and dedicated support.

In the first year Locality accumulated:

–

 

$120 million

in assets

–

 

$70 million

in loans

–

 

~4.4x

lower CAC (vs. industry average)

Products
"In just one year, Locality accomplished incredible milestones. We are thankful for the support and dedication in our journey to empower local businesses to maximize their potential."
Keith Costello, CEO, Locality Bank
Inspire Credit Union Continues to Improve Digital Member Experience
Through Nymbus partnership, Inspire Federal Credit Union continuously provides best-in-class online and mobile banking experiences.
Challenge

With a focused and aggressive approach to relationship-based banking, Inspire needed to compete against larger regional credit unions and banks that were increasingly innovating with more modern, digital financial services.

Solution

To lay the foundation for its next chapter of growth and expansion, Inspire converted to the Nymbus Core, and found a forward-thinking technology partner who understands digital banking and member needs. Inspire continues to adopt available updates since the original conversion in 2019. Today's app delivers 5-star reviews from members who find their mobile experience simple, easy-to-navigate, and user-friendly – a true match to the Inspire in-person member experience.

Products